MARCAB COMPANY, INC. and COLUMBIA PACIFIC BIOGAS
Complete Gas Conditioning System
MARCAB, which has been providing quality gas scrubbing systems for wastewater, agricultural and industrial applications since 1970, now offers complete Gas Conditioning Systems. MARCAB has teamed with Columbia Pacific Biogas (CPB) and now offers a full range of gas conditioning options. Columbia Pacific Biogas' principal owners bring over 70 years of engineering and design experience to the table, not to mention years of hands-on operational experience. MARCAB and CPB have worked together on projects from 30 to 2800 scfm.
In addition to their time proven Iron Sponge systems with their patented In-Vessel Regeneration System for H2S removal, MARCAB can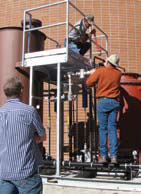 also now offer options such as siloxane removal, temperature and moisture control, and gas boosting. These packages are all neatly skid-mounted and piped for easy on-site hook-up.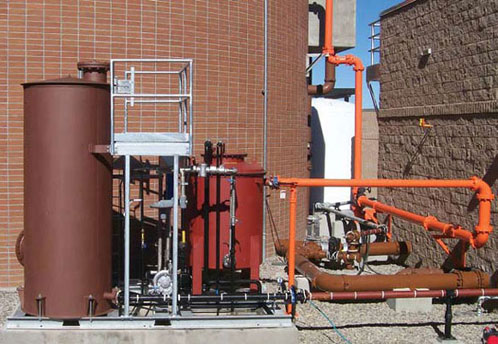 Each gas conditioning package is custom designed to meet the needs of the owner. MARCAB and CPB use carbon for the removal of siloxane.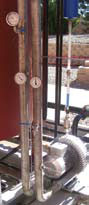 For complete gas conditioning, typically we will recommend two Iron Sponge vessels in lead/lag series operation for H2S removal (though sites with low inlet H2S may require only one). The gas then passes to a conditioning skid where it will be conditioned to the proper temperature, pressure and humidity. MARCAB and CPB utilize a small amount of treated wastewater in their custom designed heat exchangers, greatly reducing the energy demand of the system and providing a "Greener" solution to gas conditioning. The conditioned gas then passes to the carbon vessel for removal of siloxane prior to re-entering the site's process piping at the owner's preferred gas pressure. CPB has developed a special lower-priced chemical test for the detection of siloxane, and each siloxane removal system is provided with 10 pre-paid tests (typically several years worth).